Imagine waking up every morning filled with energy and enthusiasm to tackle the day. Imagine feeling well enough to actually do the things you love and live your life on your terms. 
Imagine knowing every cell in your body is properly charged to do its job so you feel fantastic all day long.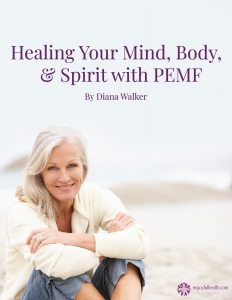 With the Healing Your Mind, Body, and Spirit with PEMF short report, you'll discover the types of energy around you, how to tap into "good" energy, and how to fight back against negative energy (like electrosmog). Here's a peek at what you'll see inside the report…
How PEMF Changed My Life

The Two Types of Energy

Is Your Smartphone Making You Sick?

You Can Fight Back (And Win!) Against Electrosmog

How to Use A PEMF Mat

Where Can You Find A PEMF Mat?

The Home Healing PEMF Mat
Discover how to take back your health today!
Download your copy below: