PEMF Pain and Inflammation are rampant in our society.
PEMF Pain Who doesn't have pain? We used to think of older or elderly people with pain, but now it is young people, who should be at the height of their health.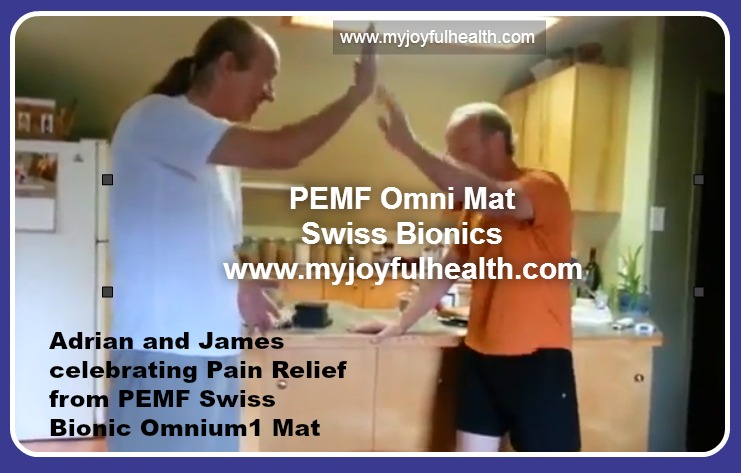 ---
PEMF Pain – Pulsed ElectroMagnetic Field therapy has been known to help with aches and pains and inflammation.
Date of the video – June 10, 2016. This highlights Adrian and James. Adrian has had terrific results with back pain after an accident. He has owned his PEMF Omnium1 Mat for about a year now. At this time (June 2016), James was very new to this technology and had terrific results from just 5  sessions on the mat!
PEMF Pulsed Electro-Magnetic Field Therapy for Chronic Pain James experienced great results with  Pain in Joints – Wrist, Elbow and Ankles  This was video-taped in Salmon Arm, BC Canada.  James Wilson was grateful that his wrist pain and elbow pain and foot pain were gone, with just one session on the PEMF Omnium1 Mat by Swiss Bionics. Also called Omni Mat.
"I've had a lot of joint pain in the last 5 to 6 months.  I've been eating a lot of sugar and I know it's not good for me.  I'd gone and sought some help but wasn't getting anywhere with it.  You came up and I was on the mat 2 nights ago. I experienced a little relief in my elbow and in my wrist.  This elbow was bad, I couldn't rotate it without having a lot of pain.  The joints in both feet were painful.  One experience on the mat, and 2 cycles and today 3 more cycles – two of Regeneration and one of Sleep.  I haven't had my thumb do that in 7 or 8 months.  I can rotate my hand.  No pain.  My foot – months and months of pain.  All that is completely attributable to the mat.  Very positive experience for me! "  Thank you so much, James, for sharing this with us!
Find out how you can purchase your own here!
---

April 2017 – Susan had an accident, pain in both rotator cuffs, and couldn't lift her arm.
2 Surgeries on each Shoulder – 2 Surgeries on left shoulder and 2 Surgeries on right shoulder.
Very Grateful Now – with PEMF Omnium1 Mat technology – Susan's pain is gone.
Also – Susan is off all Pain Medications!
Jennifer: "Here is a wonderful testimonial from Susan about how she has no more pain and has full use of her arm now. I wish I would have taken a video from her first time when her pain disappeared and her arm went over her head for the first time in 11 years. And all in only 8 minutes!"
Also the second part that did not get recorded was all of the pain meds that she no longer needs.
Absolutely amazing!!!
Thank you Susan for sharing. You and other testimonials that I hear are why I do what I do."
PEMF Pain – Chronic Pain: What You Can Do
Chronic pain often lasts for many months or for a lifetime.  This degree of pain can strongly affect you on a daily basis. Chronic pain is more difficult to manage and treat when compared to acute pain. Chronic pain takes on a life of its own and is more than just pain symptoms.
When you have chronic pain, you can have limitations in activities of daily living (grooming, bathing, household chores, and cooking) and often have increased stress that can affect all areas of your life.
Research studies have indicated that chronic pain causes changes in the brain's structures.
Researchers now believe that chronic pain takes on a life of its own, becoming a disease that does not just involve the experience of pain. Even though the pain is located in the joint, the pain isn't the only thing you will experience.
Chronic inflammation from rheumatoid arthritis, for example, causes pain signals to continuously bombard the brain. The nerve cells that carry the pain signal are secondarily changed so that they become more efficient at relaying the pain signals. The end result is that minor pain may be perceived by the brain as a significant pain. When this happens, it is called having "centralized pain."
---
PEMF PAIN – Ease Your Pain
You can help control the pain and live better if you practice the following:
Catch Acute Pain before it becomes Chronic Pain. Chronic pain is defined as pain that has been going on for at least three months or pain that lasts past the time the injury would be expected to heal. You need to take action toward reducing the pain before it turns into chronic pain. It is easier to treat short-term pain than it is to treat chronic pain. It means that you might want to take action so that the pain can be quickly relieved while it is acute so it doesn't cause the brain changes seen in chronic pain.
Keep a Diary. Document your pain. Write down where you are experiencing the pain, what the pain feels like, and how long you have had the pain. Note the limitations you are experiencing because of the pain. Try keeping a diary in which you explain those situations that worsen or improve the pain. This helps you and your Energy Healer to know the full impact of pain on your life.
Seek Energy Therapies and Therapists. A good clinic has a multidisciplinary team on its staff, including Osteopath, Physical and Occupational Therapists, Naturopaths, Acupuncturists.
PEMF helps in Pain Relief – See your local PEMF Omnium1 Swiss Bionic Lifestyle Consultant
by completing our contact form here.
Have a session or several sessions on a PEMF Omnium1 Whole Body Mat. Learn more
Learn more and Subscribe to our PEMF-JOY updates.

Click here:
Get instant access to a lot more valuable information created exclusively for you!