PEMF Depression and Pain – There is Hope!
These may be your feelings:
I am depressed.
I am in pain.
I find that I am more Joyful, more Relaxed when I am in Nature.
Nature helps with Depression.
PEMF (Pulsed ElectroMagnetic Frequencies) help with Depression.
PEMF uses the frequencies of Nature, to relax you, to bring you into balance.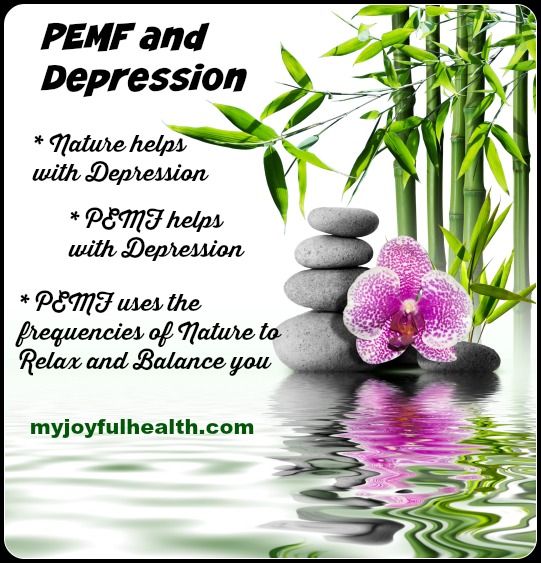 ---
Here is a Checklist:
Symptoms of Depression (Adults)
Check off any of the symptoms that you are experiencing:
____  Fatigue
____  Feelings of guilt, anguish, sadness and/or hopelessness
____  Melancholy feelings
____  Decreased concentration
____  Sleep changes – Increased or decreased sleep
____  Loss of pleasure in activities previously enjoyed
____  Weight loss or increases (with decreased or increased appetite)
____  Decreased libido
____  Difficulty with short-term memory
____  Feeling like a failure
____  Restless, fidgety, or nervous
____  Slowed speech
____  Slowed movements
____  Thoughts of hurting self (Get help immediately!)
____  Thoughts of suicide or death (Get help immediately!)
____  Self-loathing
Here is a success story from a client of Health Harmonies in Ontario, Canada:
"I have been in chronic pain for more than 5 years. I have ongoing health issues, low back and leg pain from a herniated disc, a schwannoma tumour nerve covered my disc. I also have fibromyelgia and chronic pain. With fibromyelgia I got depression, tiredness and difficulty sleeping. The fibromyalgia woke me up every night in the middle of the night and put my feet in cold water.

Since I started at health harmonies three times laying on the PEMF beds I noticed after three or four time after coming I did not wake up in the middle of the night to put my feet in colde water. This was miracle I slept through the night. From that time I have lots of energy and less pain. I can sleep through the night. I spoke with my psychiatrist, which he has been treating me for 3 years for depression, and he reduced my mediation because I was feeling happier and less pain and lots of energy and sleeping well. This happened very quickly after three or four times like magic. I found this place and I think this is like a charity how much they do for you and the price you pay to come. The service is amazing and they treat you like family. The smiles in their faces make the customers feel so welcomed. I would highly recommend Health Harmonies. " ~Rita Kishta
PEMF Depression and Pain, Fibromyalgia, Tired all the time – There is lots of Hope for Joy, Peace and Balance with PEMF for Depression Omnium1 Mat.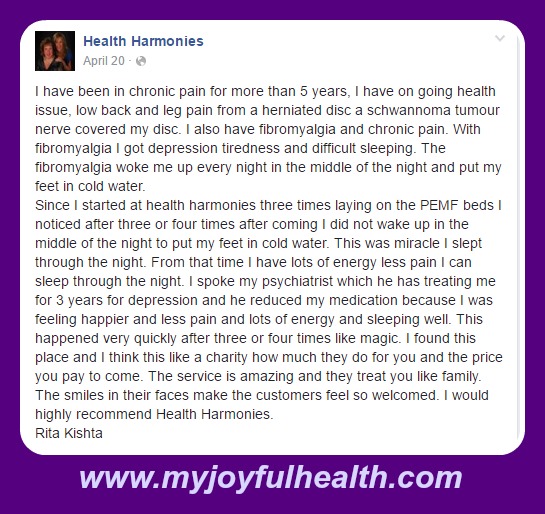 Are you at risk for Depression?
For a long time, not much was known about depression. Those who thought they had it hid it out of shame. Now that more is known and treatment is viable, being proactive is a vital part of the process of the awareness of depression. Know if you are at risk.
What is risk? In the case of depression, it means that you are predisposed to the symptoms that lead to the condition. Because of the different phases of a women's reproductive life, hormonal changes occur more often than they do in men. This also means that there are more chances for depression to become an issue.
---
PEMF Depression – There is Hope
What are the Risks?
According to statistics, women are twice as likely as men to develop depression during their lifetime. And, one in eight women will probably experience the condition. Some common risk factors for depression in either gender are:
Stress
Family issues
Financial issues
Socioeconomic issues
Other risk factors that pertain mostly to women include:
Use of oral contraceptives
History of physical or sexual abuse
Loss of a parent or parental figure during childhood
Giving birth to more than one child
Family history of mood disorders including depression
Extreme premenstrual symptoms (including PMDD-premenstrual dysphoric disorder)
Infertility treatments
Let's take a closer look.
Contraceptive use – There are many risk factors involved with taking oral contraceptives. Ones that contain high progesterone content are looked at in particular. Levels of progesterone are thought to be the reason that stress hormones continue to be secreted instead of being stopped during periods of stress. Switching to another pill or another form of contraception is advised.
History of abuse – Sexual and physical abuse especially during childhood can lead to depression. Counseling after the event can help sort out feelings.
Loss of a parent – Losing a parent early can be confusing for a child. Talking and using counseling to deal with the loss can help thwart a bout with depression.
Multiple births – With each pregnancy, there are hormonal changes that can bring about postpartum depression. Consider talking to a doctor about proactive ways of limiting these results during and after pregnancies.
Family history – Know your history. When you know depression is a real possibility, you can discuss ways to prevent it from occurring in your life.
Premenstrual issues – Most women experience hormonal changes during their period and then they leave. Some have symptoms that make it almost impossible for them to function in their lives during this time. There are treatments for PMDD that can help keep depression from becoming a factor.
Infertility – Just the stress of some of the procedures can lead to depression. Also, certain treatments lead to hormonal changes.
Knowing the risk factors helps in a positive way.
Head off depression before it becomes an issue.
Differences between Male and Female Symptoms
Let's get down to the main differences between male and female symptoms when it comes to depression. Where they exhibit some of the same, the manifestation in women is more pronounced and profound.
Women:
Anxiety and fear over life
Guilty feelings, blaming themselves
Desire to talk about their depressive feelings and rehash old events
Avoid all conflict situations
Go to extremes; trouble with boundaries
Feeling of moving in slow motion
Self-medicate with food and friends
Men on the other hand, are polar opposites in all these areas. For instance, they blame others for their situation instead of blaming themselves. And, they feel talking about their feelings shows weakness so they don't indulge.
Recognizing that there are differences between men and women regarding depression is a plus. It can increases proper diagnosis and effective treatment.
PURCHASE OMNIUM1 MAT HERE:
---
Ask Questions here:  https://myjoyfulhealth.com/contact
---
Learn more through our Newsletter here:  https://myjoyfulhealth.com/newsletter