PEMF Depression and Pain – There is Hope!
PEMF Depression and Pain Management through Swiss Bionic PEMF with Omnium1 (or iMRS Prime)
PEMF:
1. Lessens effects of Stress
2. Reduces Depression and Anxiety
3. Reduces harmful effects of EMFs of cell phones, wifi, TV, computer, etc.
4. Improves Quality of Sleep
5.  Drug-free and Safe
6.  In 2006 – USA FDA approved PEMF for treatment of Depression
VIDEO WITH WOLFGANG JAKSCH, Workshop, Vancouver, BC, Canada
Founder and CEO of Swiss Bionic Solutions March 2, 2017
*******************************************

Mental Health diseases – hard to diagnose, hard to catch.
Most treatments are sedating, medications, which have side effects.
Good results with PEMF.
Video – at 2:35 (2 minutes 35 seconds)
Wolfgang says: Very high magnetic field works like pain killer – inhibits the negative process.
Problem with the high intensity – most people, the effects don't last long.
With Swiss Bionic Low Frequency  PEMF – we provide information to the body, ask the body to take it over, and deal with it…
Low Intensities – Gentle – Results are lasting much longer.
Highly recommend using low PEMF – maximum setting of 10 with the Swiss Bionic Omnium1.
Wolfgang would recommend the Sensitive Setting on the Omnium1 Mat.
Health Canada and FDA in USA have cleared treatment of Depression with PEMF ElectroMagnetic Waves.
The iMRS is the system used within the Omnium1.
The Swiss Bionic Solutions' iMRS (Integrated Magnetic Resonance Stimulation) Wellness System is an all-natural way to combat chronic pain, stress, depression, insomnia and many other health issues.
These may be your feelings:
I am depressed.
I am in pain.
SOLUTION – I find that I am more Joyful, more Relaxed when I am in Nature.
Nature helps with Depression.
PEMF (Pulsed ElectroMagnetic Frequencies) help with Depression.
PEMF uses the frequencies of Nature (zero to 30 Hertz), to relax you, to bring you into balance.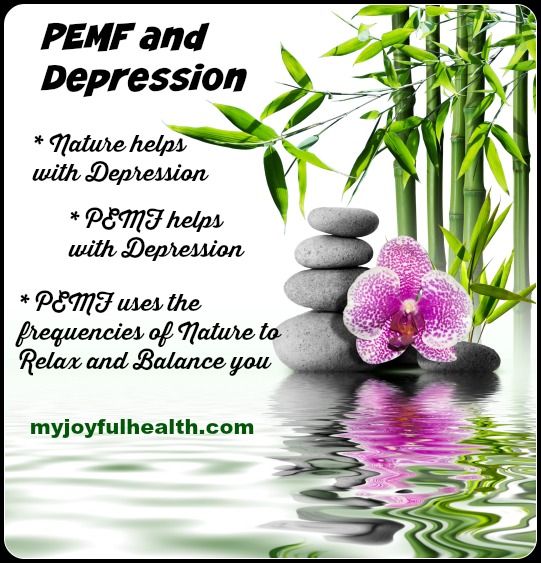 ---
PEMF DEPRESSION VIDEO BELOW – Diana Walker Testimonial
I had two sessions with a PEMF mat on the first day and another two sessions the next day.
After those four sessions, I felt like clouds lifted. My thinking was clear and I felt more relaxed and joyful than I had in weeks.
When I returned home after my vacation, I started to feel stressed and anxious again. So, I phoned my friend to find out how I could get my own Omnium1 PEMF OmniMat and OmniPad. Now I use my OmniMat twice daily (or more) for 24 minutes each time.  I particularly love the "Regeneration" setting.

---
PEMF DEPRESSION VIDEO #2 – Diana Walker Testimonial #2

******************************
Here is a Checklist:
Symptoms of Depression (Adults)
Check off any of the symptoms that you are experiencing:
____  Fatigue
____  Feelings of guilt, anguish, sadness and/or hopelessness
____  Melancholy feelings
____  Decreased concentration
____  Sleep changes – Increased or decreased sleep
____  Loss of pleasure in activities previously enjoyed
____  Weight loss or increases (with decreased or increased appetite)
____  Decreased libido
____  Difficulty with short-term memory
____  Feeling like a failure
____  Restless, fidgety, or nervous
____  Slowed speech
____  Slowed movements
____  Thoughts of hurting self (Get help immediately!)
____  Thoughts of suicide or death (Get help immediately!)
____  Self-loathing
Here is a success story from a client of Health Harmonies in Ontario, Canada:
"I have been in chronic pain for more than 5 years. I have ongoing health issues, low back and leg pain from a herniated disc, a schwannoma tumour nerve covered my disc. I also have fibromyelgia and chronic pain. With fibromyelgia I got depression, tiredness and difficulty sleeping. The fibromyalgia woke me up every night in the middle of the night and put my feet in cold water.

Since I started at health harmonies three times laying on the PEMF beds I noticed after three or four time after coming I did not wake up in the middle of the night to put my feet in colde water. This was miracle I slept through the night. From that time I have lots of energy and less pain. I can sleep through the night. I spoke with my psychiatrist, which he has been treating me for 3 years for depression, and he reduced my mediation because I was feeling happier and less pain and lots of energy and sleeping well. This happened very quickly after three or four times like magic. I found this place and I think this is like a charity how much they do for you and the price you pay to come. The service is amazing and they treat you like family. The smiles in their faces make the customers feel so welcomed. I would highly recommend Health Harmonies. " ~Rita Kishta
PEMF Depression and Pain, Fibromyalgia, Tired all the time – There is lots of Hope for Joy, Peace and Balance with PEMF for Depression Omnium1 Mat.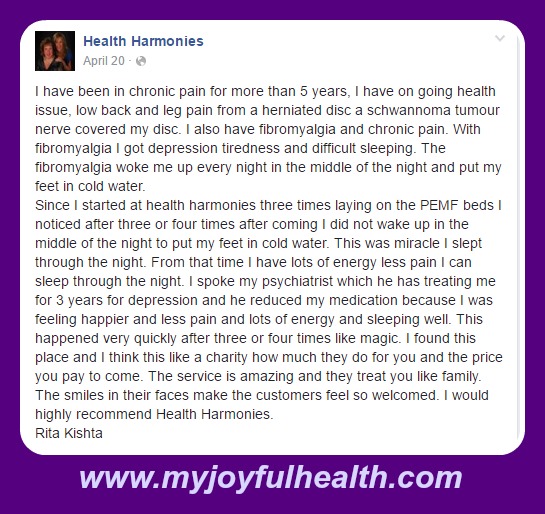 ---
PEMF Depression – There is Hope
PEMF, Brainwave Entrainment and Stress
PEMF – use Swiss Bionic OmniMat
Brainwave Entrainment – use Swiss Bionic OmniBrain
PEMFs and brainwave entrainment can help with stress in three basic ways:
• Reduction of the brain's response to stress
• Elimination of neurotransmitters and hormones produced by ongoing stress
• Protecting the cells and tissues of the body from the physical changes caused by stress hormones
In terms of reducing the brain's reaction or reactivity to stress, PEMF therapy acts positively in the functional state of the nervous and endocrine system as well as on tissue metabolism.
The heart rate and blood pressure decrease and the cardiovascular system are less reactive to epinephrine.
The relaxation part of the nervous system (parasympathetic) is activated and production of cortisol is reduced.
PEMF stimulation of the kidneys can accelerate the excretion of produced stress hormones.
The same thing happens with the hypothalamus in the brain, which has a central role in controlling the brain's responses to stress.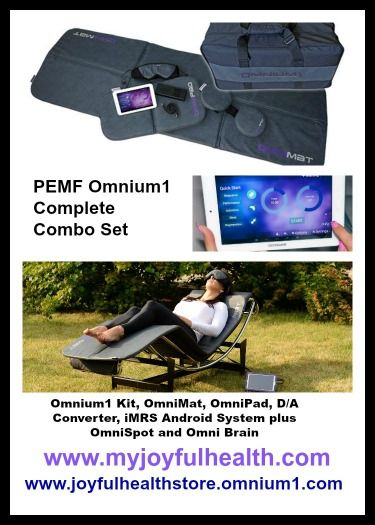 PURCHASE OMNIUM1 MAT HERE:
---
Ask Questions here:  https://myjoyfulhealth.com/contact
---
Learn more through our Newsletter here:  https://myjoyfulhealth.com/newsletter