Goldie Leads a PEMF Workshop in Salmon Arm
Goldie loves to share her knowledge and experience with PEMF – Energy Healing – Pulsed ElectroMagnetic Field Therapy, using the Omnium1 Mat from Swiss Bionic.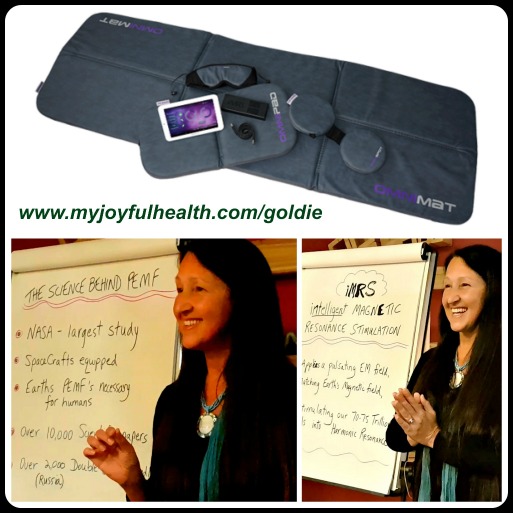 PEMF Swiss Bionic Omnium1 #1 Salmon Arm
Goldie – Pulsed ElectroMagnetic Field Therapy – March 23, 2017
PEMF VIDEO PLAYLIST HERE
https://www.youtube.com/playlist?list=PLg5DE8RLWTIBKDD-iMIXSCUaozPdMeXem
The Five Elements Essential to Health:
1. Earth/Food
2. Water
3. Air/Oxygen
4. Fire/Sunlight
5. PEMF (Pulsed ElectroMagnetic Field) Salmon Arm, BC Canada
PEMF Omnium1 Mat by Swiss Bionic. Founder and CEO Wolfgang Jaksch
GOLDIE VIDEO #1

VIDEO #2

VIDEO #3

VIDEO #4

VIDEO #5

VIDEO #6

VIDEO #7

VIDEO #8

VIDEO #9

WHAT IS PEMF?
PEMF stands for "Pulsed ElectroMagnetic Field" ~ ESSENTIAL to life on Earth
The Earth's magnetic field and Schumann frequencies together are referred to as the Earth's PEMF's (pulsed electromagnetic fields)
In classical Chinese medicine it is said that man needs environmental signals of two kinds ~ yang input from above (Schumann waves) and yin input from below (earth's geomagnetic field).  Both of these, it is said, must be in balance.
We need both the Schumann frequencies from above and the Earth's geomagnetic field, frequencies, harmonics from below for life on Earth.
RE:  Schumann Resonance:
By studying how tension is discharged by lightning in the earth's ionosphere cavity the Pulse of the Earth / or the Schumann Resonance of 7.83 hertz was discovered
Alpha Brain Waves and the Schumann Resonance of 7.83 hertz are identical (we are tuned to the earth's frequency)
WHAT IS PEMF THERAPY?
Replicates the Earth PEMFs
Energy Medicine
Whole Body Battery Recharger
Jump Start Cells Back (our 75 Trillion Cells)
PEMF Therapy is a research-proven, natural, non-invasive form of Energy Medicine
PEMF Therapy devices use a computer/control unit to administer precise natural pulsating magnetic fields to the body through various applicators ~ full body mat & localized pad or spot applicators
PEMF devices are designed to replicate the Earth's natural PEMF frequencies
PEMF Therapy is like a Whole Body Battery Recharger (used 2 times a day for 8 minutes each)
"It's like putting little tiny jumper cables on all your cells and "jump-starting" them back to health."
Pulsating magnetic fields effortlessly pass thru all tissues & cells for deep healing, giving your body more energy and vitality
****An 8 to 10 minute session continues to work for 6 hours or more****
PEMF Benefits: 
Recharges your 70-75 trillion cells
Improves ATP production
Increases oxygenation
Enhances circulation
Promotes hydration
Facilitates detoxification
Better overall absorption of nutrients
TOP 8 BENEFITS (according to Physicist, Bryant Meyers)
Stronger Bones
Endorphins & Pain Relief
Better Sleep & HGH Secretion
More Energy
Better Oxygenation & Circulation
Improved Immunity
Relaxation & Stress Reduction
Nerve & Tissue Regeneration
SCIENTIFIC RESEARCH BEHIND PEMF
A Landmark NASA Study on PEMF shows that lower frequencies (0-30 hertz) are ideal for stimulating cell growth, repair, and healing
NASA and the Russian space program equip their spacecrafts with devices that replicate the Earth's PEMFs (these frequencies are absolutely necessary for the human body's circadian rhythms, energy production, and keeping the body free of pain
PEMF Therapy has been used extensively for decades for many health issues for humans and animals
There are more than 10,000 Scientific Papers & 2,000 Double Blind Studies published about the effect PEMF (many originally carried out in Russia and Eastern Europe)
The over 2,000 Double Blind Studies have demonstrated that PEMF Therapy is a safe & effective treatment for a variety of conditions, as well as to promote & maintain general cellular health & function
PEMF Therapy is FDA recognized for relief from:  Osteoarthritis, Osteoporosis, Insomnia, Non-Healing Wounds, Broken Bones, Headaches, Depression, Inflammation, Chronic Pain, and Sleep Disorders
ELECTROSMOG
We are increasingly exposed to high, unhealthy, non-biological frequencies (Electrosmog ~ aka "Dirty Electricity" from cell phones, power lines, cellphone towers, cordless phones, computers, etc.
Our brains, bodies and cells resonate & operate at the lower frequencies & harmonics of the Earth
Nerves heal at 2 hertz, bones at 7 hertz, and ligaments at 10 hertz
Most households use electricity at 50-60 hertz
Typical cell phones use 800-1900 MEGA hertz and 3G, 4G, 5G are in the Billions of hertz
Using an Earth-based PEMF device is like giving yourself an Electromagnetic Bath!
THE SWISS BIONIC DIFFERENCE
Wolfgang Jaksch, Founder & CEO of Swiss Bionic Solutions
In Business over 20 years
Swiss Bionic #1 in the world
Electrically Safe (CE Certification)
Health Canada Medical Device License for iMRS Technology
We recently met twice with Wolfgang Jaksch, Founder & CEO of Swiss Bionic Solutions when he visited Vancouver BC in November 2016 and March 2017 from Switzerland.
Swiss Bionic is #1 in the World, with 1.5 Million users & 7,000 Reps worldwide
They have been in business 20 years.
Out of 250 PEMF Manufacturers worldwide, 240 of them are not electrically safe (no CE certification)
Swiss Bionic is the only PEMF company compliant with technology certified with a Medical Device License by Health Canada ~ the iMRS technology (most companies do not have the money to seek certification as it takes lots of work, documentation, money, and clinical evidence)
iMRS ~ INTELLIGENT MAGNETIC RESONANCE STIMULATION
Applies a Pulsating EM (ElectroMagnetic) Field which matches Earth's Magnetic Field
Stimulates our 70 – 75 Trillion Cells into Harmonic Resonance!
The technology that runs both PEMF Systems by Swiss Bionic (the Medical version called the iMRS System and the home Wellness Device called the Omnium1 System)
The term "Magnetic Resonance Stimulation" simply indicates that by applying a pulsating electromagnetic field that matches the Earth's magnetic field, nearly all 70-75 Trillion cells of the body can be stimulated into harmonic resonance.
This iMRS Technology by Swiss Bionic Solutions has a License from HEALTH CANADA as a Class II Medical Device
Restore Human Health on the Cellular Level
Investing in a PEMF mat for your health is one of the best investments you can make.
The iMRS is the only system to offer this waveform frequency and intensity as used by NASA.
Learn more and Subscribe to our PEMF-JOY updates.

Click here:
Get instant access to a lot more valuable information created exclusively for you!