PEMF No WiFi In Schools
PEMF No WiFi In Schools — Wireless radiation levels from WiFi have not been proven safe for children.
Damage from Wifi can be done on a cellular level, preventing us from catching it right away.
Say NO to WiFi in schools. Choose to use hardwired internet instead of wireless.  Wireless creates "ElectroSmog"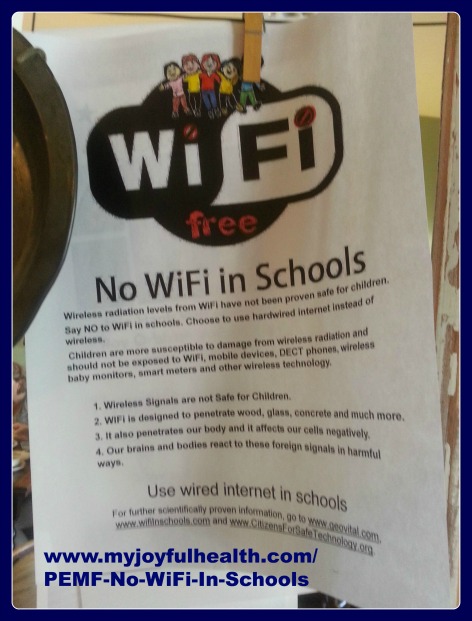 Children are more susceptible to damage from wireless radiation and should not be exposed to WiFi, mobile devices, cordless phones, wireless baby monitors, smart meters, and other wireless technology.
1. Wireless signals are NOT Safe for Children.
2. WiFi is designed to penetrate wood, glass, concrete and much more.
3. WiFi also penetrates our body and it affects our cells negatively.
4. Our brains and bodies react to these foreign signals in harmful ways.
Use Wired Internet in Schools.
Peter Sullivan, Engineer, in California is passionate about empowering children, and children's education.
He researches factors that undermine children's full potential.
After research, he is very concerned about Wireless contributing to interference in the Calcium channel in your brain and in your nervous system.
This wireless radiation interference in the Blood/Brain Barrier prevents the proper flow of calcium in and out of your cells.
This affects the creation of new neurons and new connections in the brain.
This undermines the ability of children to learn.
In Palo Alto, California, 9 children committed suicide since 2008.
They are looking at Mental Health and Peter Sullivan states that they should be looking at the root cause – such as wireless – in causing health and intelligence problems.
He states: "Reduce wireless exposure in classrooms to keep our children safe."
PEMF No WiFi In Schools – Vimeo Video ABC News:
Switzerland prides itself on having among the most stringent regulations on electromagnetic radiation in the world. As of 2000, it has supplemented its exposure limits (which are in keeping with Canada's) with much more restrictive limits for installations of power lines, television and radio transmitters, and mobile phone base-stations in well-frequented locations. The new regulations were accompanied by an aggressive public awareness campaign about the health risks of RF radiation. Swisscom, the national telecom company, promotes its line of low-radiation "Ecomode" phones and routers as "safer" – openly acknowledging the risks inherent in these devices. And for 10 years, Swisscom has been installing wired Internet connections in Swiss schools for free. Why not wireless? As company spokesman Carsten Roetz wrote in an e-mail, "because there's no reason to put a radiation source that isn't absolutely necessary in schools." Of Switzerland's 6,800 schools, Roetz estimates that fewer than 100 have opted for wireless connections.
PEMF No WiFi in Schools  Symptoms can include:
blood pressure changes
concentration problems
depression
forgetfulness
headaches
hearing loss
irritability
learning difficulties
limb and joint pains
numbness or tingling sensations
restlessness
sleep disturbance
tiredness
2000 – Sir William Stewart's research gave him enough proof for him to state that we should take precautionary approaches when putting masts near schools.
Damage from Wifi can be done on a cellular level, preventing us from catching it right away.
Here is Hope:  http://joyfulhealthstore.omnium1.com
Extended Wifi exposure is being connected to bigger diseases such as:
Autism
ADHD
Cancer
Diabetes
Fibromyalgia
High Blood Pressure
Some common symptoms from Wifi exposure are:
Anxiety
Depression
Dizziness
Headaches (chronic)
Memory Problems
Sleep Disturbances
Tremours
We are being "Wi-Fried"!
Relax and Reverse ElectroSmog with the Ommmmmmmmni Mat.
Photo taken in Salmon Arm, BC, Canada by Diana Walker
Swiss Bionic Lifestyle Consultant
PEMF Omnium1 Full Body Mat
BUY YOUR Swiss Bionic PEMF Omnium1 MAT
HERE:  http://joyfulhealthstore.omnium1.com
LEARN MORE AND SUBSCRIBE BELOW.