PEMF Omnium1 Swiss Bionic New Android Tablet New PEMF Omnium1 2.0 November 2018: 2.0 Version
PEMF Omnium1 Swiss Bionic New Android Tablet New PEMF Omnium1 2.0 November 2018: 2.0 Version available in USA and Canada and worldwide.  Wolfgang Jaksch, Founder of Swiss Bionic, has introduced the New Omnium1 2.0.  Shipments from Switzerland to Florida, USA, and Ontario, Canada will be arriving in early November 2018.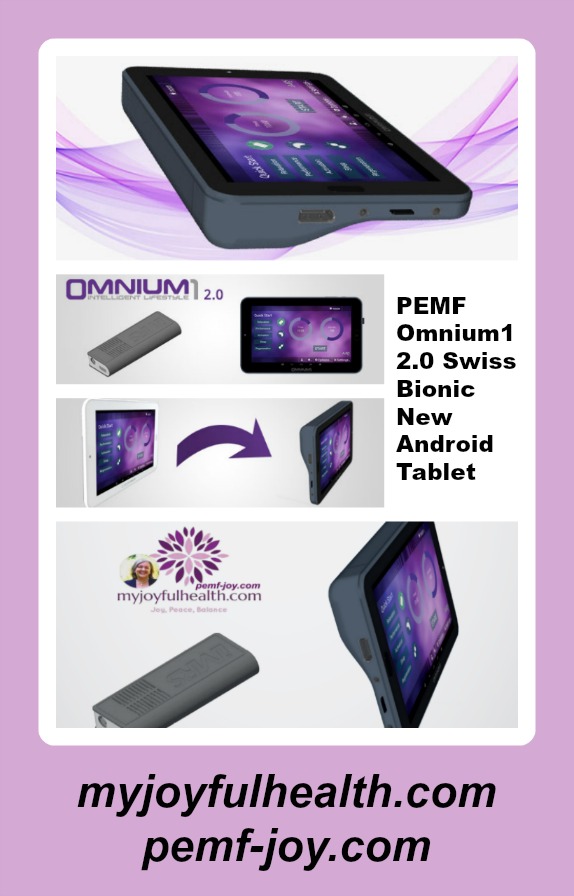 Launch of the redesigned Omnium1 system, Omnium1 2.0, PEMF To Go – November 2018.
Option 1 CANADIAN
– $1500.00 down payment.  Pay total of $4,299 Canadian for value of $5,700 approximately
Save $1,400 (approx) Canadian
Option 1 USA
– $1000.00 down payment.  Pay total of $3,345 USA for value of $4,400 approximately
Save over $1,000 USA
Key Features at a Glance for the New Redesigned Omnium1 2.0, PEMF-To-Go
~~~ Click on the

Blue

printing to open PDF files
Options for Purchasing or Pre-ordering for November 2018:
Instructions for Ordering:
Android Tablet Housing:
Newly Designed Tablet shape with a separately accessible battery pack compartment.
Better Handling
Housing shape serves as a stand for easy operation on a table and better display-visibility
Android Version 7.0
New Color Design
Aluminum-Brushed Space Grey
Power Management
Power Pack, containing 4 x 3.7 V 18650 lithium-ion batteries (very reliable and stable, same batteries as used in Tesla Cars)!  Built-in intelligence for external power management within battery pack, no more electrical interference with the internal circuit boards of the tablet = highly reliable functionality!
Battery Pack can be exchanged by oneself = simple maintenance, no need to send in the tablet!
Easier shipping worldwide, as lithium-ion battery packs can be shipped separately and do not fall under the Global Safety Transportation Act for hazardous power packes = more flexibility in shipping and less logistic costs for Swiss Bionic Solutions!
D/A-Converter
Newly designed housing with additional aluminum cuff (also serves as a perfect layer for better heat absorption = longer application duration with high intensities without overheating!
New colors = Space Grey and Brushed Aluminum!
Optional adapter available, which can be attached directly to the D/A Converter = enables connection of all three applications permanently and individual selection prior to usage!
Swiss Bionic is #1 in the World, with 2.0 Million users and 8,000 Reps worldwide.  They have been in business for 24 years.
Out of the 250 PEMF Manufacturers worldwide, Wolfgang (Founder and CEO of Swiss Bionic) says that 240 of them are not electrically safe (no CE certification) and that Swiss Bionic is the only one compliant and certified by Health Canada as a "Medical Device" (other companies don't have the money to seek certification as it takes lots of work, documentation, money and clinical evidence).  It is technology proven by NASA and Recognized by the FDA, as well.
---