Wolfgang Jaksch Swiss Bionic Founder and CEO
Wolfgang Jaksch Swiss Bionic Founder and CEO PEMF technology (Pulsed ElectroMagnetic Field Therapy) was born and raised in Bavaria, Germany, close to the Alps.
Now he lives in Zurich, Switzerland.
We are looking forward to seeing Wolfgang Jaksch in Vancouver, BC, Canada on Monday, November 7, 2016
More Details Here:  https://myjoyfulhealth.com/pemf-vancouver-bc-canada/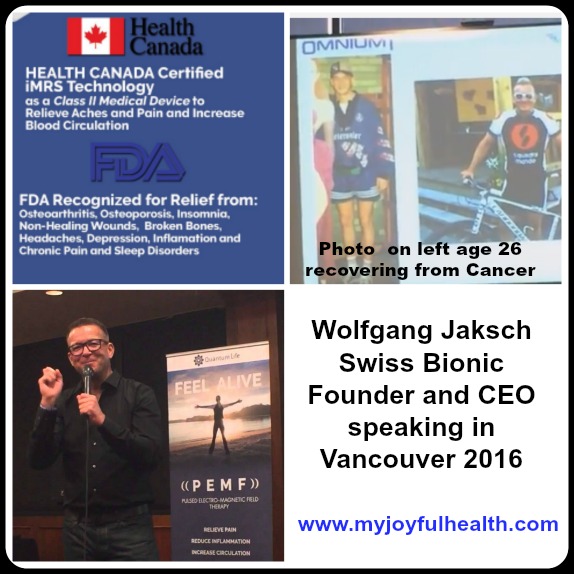 1996 – Wolfgang was diagnosed with Non-Hodgkin's Lymphoma as a young man in his twenties.
Recovery from Cancer, age 26.
Pretty late stage so it was serious.
He went through the whole medical practices – surgery and chemotherapy.
With all the toxins from the chemotherapy and from the anaesthesia, he lost a lot of weight over a short period of time. 80, 85 pounds.  He was a hockey player so it hit him really hard.
WORDING FROM VIDEO BELOW- HOW I RECOVERED FROM CANCER:
Sleep was the first benefit Wolfgang Jaksch received after he had surgery for cancer over 25 years ago. Wolfgang talks about Mental stress and first time he used the PEMF Mat Pulsed ElectroMagnetic Field Therapy Mat. Positive attitude is very important. Most of the diseases, we are responsible for them ourselves. My spirit my energy and my faith was 100% there. This is how I recovered from this cancer. Wolfgang Jaksch, Founder of Swiss Bionic PEMF Omnium1 Mat. He has been vibrantly well now for over 26 years, after recovery when he was in his 20s. I have met him in person 4 times, at Swiss Bionic Workshops in Vancouver, BC, Canada.
WOLFGANG JAKSCH CANCER SURGERY AND PEMF
************************************************************

************************************************************
PEMF Therapy – The first findings were that people slept better, when you exposed them to such a field.
A professor from the Technical University of Munich started researching with it and the first unit was actually set up for people with insomnia.  It showed very good results.
In 1996 – After only four weeks with PEMF, Wolfgang had really good results.
He got his energy back and could sleep much better.
He then went on a search, studying all Energy Medicine for the following year.
Wolfgang Jaksch Swiss Bionic
Then he created the first PEMF product and the company Swiss Bionic.
It is still manufactured in Germany and Switzerland.
Swiss Bionic are now in the 6th generation for this product.
There are 1.5 Million users worldwide.
In 2006, Swiss Bionic opened in North America.
The first market opened in Oakville, Canada and the Canadian office is still located there.
The next office was opened in Denver, Colorado, but it was too cold for Wolfgang, so Swiss Bionic USA is now located in Florida, USA.

Wolfgang Jaksch is a German native, international speaker, and CEO of Swiss Bionic Solutions
He is one of the visionary leaders in the worldwide development of PEMF (Pulsed ElectroMagnetic Field) Therapy, and Energy Medicine.
From potential casualty to health issues, he became the leading provider of PEMF for home use ~ worldwide ~ through his own journey to wellness with PEMF therapy.
Apart from lecturing and teaching the health benefits of pulsed electromagnetic fields he also develops all related products himself together with his own engineers and manufacturing facilities in Switzerland.
Known as a visionary entrepreneur, he constantly creates new products in the field of home health care based in the faculty of energy medicine.
Purchase your own Swiss Bionic PEMF Omnium1 Mat here:
http://joyfulhealthstore.omnium1.com/
---
WOLFGANG JAKSCH SWISS BIONIC CEO PEMF OMNIUM1 AND iMRS




WATCH THIS VIDEO 2 HOURS (February 2018)
The PEMF Revolution 2018 Pt from Diana Walker on Vimeo.
---
WOLFGANG JAKSCH SWISS BIONIC CEO PEMF OMNIUM1 AND iMRS




WATCH THIS VIDEO (April 2016) – HOW IT ALL BEGAN – PERSONAL STORY



Wolfgang Jaksch Swiss Bionic CEO How It All Started from Diana Walker on Vimeo.
---
Purchase your own Swiss Bionic PEMF Omnium1 Mat here:
http://joyfulhealthstore.omnium1.com/
Instructions:  http://www.pemf-joy.com/instructions.html