Event for PEMF – Pulsed ElectroMagnetic Field Therapy
Event in Salmon Arm, BC, Canada – FREE –
Allie Ochs, President, Swiss Bionic Canada,
flying in from Ontario
Click Here to register (Free):
https://www.eventbrite.ca/e/pemf-optimize-your-health-and-recharge-your-cells-tickets-44317759612
EVENT DATE:  Saturday, May 12, 2018
LOCATION:  Fifth Avenue Senior Centre, 170 – 5th Avenue SE, Salmon Arm, BC, Canada
TIME:  10:00 a.m. to 3:00 p.m.
TWO SESSIONS:  Come for one session or stay for both sessions!
10:00 am to 12:30 pm 
Omnium1 and IMRS PEMF Technology Presentation plus Questions and Answers
1:00 pm to 3:00 pm
Swiss Bionic Solutions Sharing the PEMF Technology with the world.
The world's Premier PEMF Device.
EVENT – PEMF SALMON ARM, BC, CANADA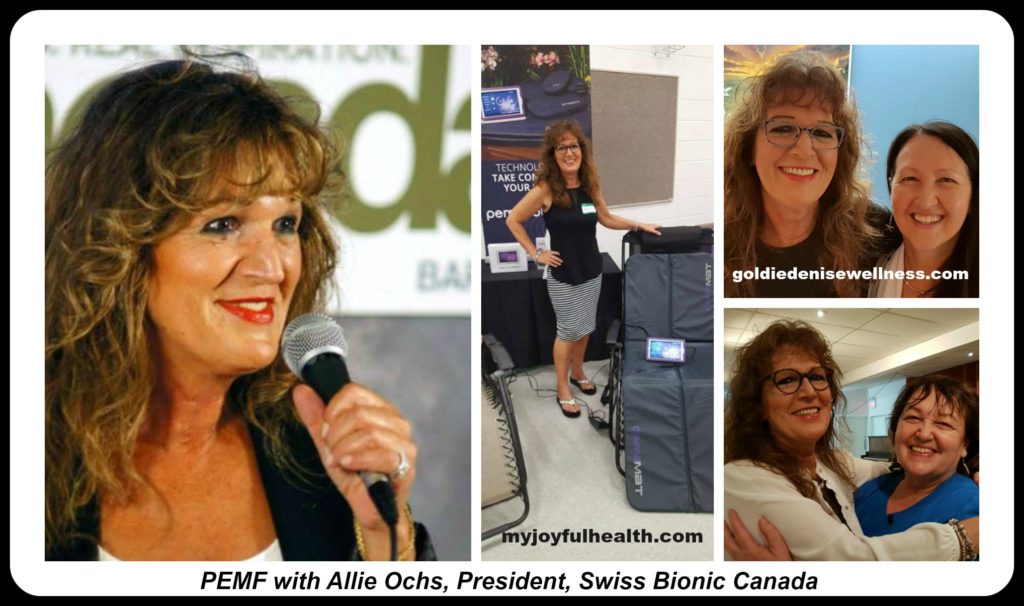 PEMF – OPTIMIZE YOUR HEALTH
with PULSED ELECTRO-MAGNETIC FIELD THERAPY
Energy Medicine backed by Science & Inspired by Nature!
FREE Info Seminar with Guest Speaker from Ontario
Global PEMF Expert Allie Ochs,
President of Swiss Bionic Solutions Canada
Find out how this NASA proven, cutting-edge technology can optimize your health and change your world!  Not all EMFs are bad for you; learn the difference between harmful and beneficial frequencies; take control of your own health.
* INCREASE VITALITY AND ENERGY
* REDUCE INFLAMMATION
* RELIEVE PAIN
* IMPROVE CIRCULATION
Guest Speaker ~ Allie Ochs, Global Expert on PEMF and President, Swiss Bionic Solutions, Canada
Allie – 12 years ago, struggled with:
* Chronic Health Issues
* Debilitating Back Pain
* Headaches
* Shoulder Injuries
* Irritable Bowel Syndrome
* Weight Gain
* Insomnia
* Low Energy
In 2006 Allie discovered PEMF Therapy, imported her mat from Switzerland, and now is President of Swiss Bionic Canada!
Event – Optimizing Health with Pulsed Electromagnetic Field Technology
If you were able to find a natural, gentle, non-invasive technology that reduces inflammation, relieves pain, melts away stress & anxiety, improves blood circulation and quality of sleep, accelerates healing, prevents illness or injury ~ would you be interested to know what it is and how to get it?  If yes, this FREE Seminar is for you!

We are electromagnetic beings as much as we are chemical or mechanical.  Our cellular body repairs and regenerates when our cells are at optimal voltage and resonate with the frequency of the Earth, which is our biological window of healing (.5 to 30 hertz).  Low, Earth-based Pulsed Electromagnetic Field Therapy provides a frequency field that charges our cells and stimulates the self healing potential of all 75 trillion cells in our body; the results seem miraculous!

Learn how over 1.5 million people worldwide have taken control of their own health with PEMF technology.  Start living the quality of life you know you deserve!
**************************************
Event – Allie Ochs, Dynamic Speaker, Global Expert on PEMF
PEMF is a profoundly beneficial therapy employing cutting edge, NASA proven technology that exercises, rehabilitates and re-energizes our cells, restoring optimal cell functions. You will receive an excellent overview of PEMF, the Science behind it, and how it's become the therapy for now and the future.
We are so excited and grateful to be hosting Swiss Bionic Solutions Canadian President, Allie Ochs, for this seminar! She is a global authority and expert on PEMF technology with a deep rooted passion for helping others. Equipped with a dynamic and down-to-earth speaking style and a wealth of knowledge, Allie has addressed global audiences about achieving optimal health and wellness with PEMF technology.
She has lectured about PEMF for home use, workplace wellness, long-term care, health care clinics and hospitals at a wide range of prestigious speaking engagements in Canada, America and around the world.
Conveying the powerful message behind PEMF comes naturally for Allie, who discovered the groundbreaking technology's benefits while suffering from years of severe chronic health issues such as debilitating back pain, headaches, shoulder injuries and irritable bowel syndrome, which resulted in weight gain, insomnia and low energy. Under immense stress and deeply depressed, Allie tried PEMF in 2006. Seeing results almost immediately, Allie began to study the technology and today has over 10 years of knowledge and experience in restoring human health on the cell level.
Click Here to register (Free):
https://www.eventbrite.ca/e/pemf-optimize-your-health-and-recharge-your-cells-tickets-44317759612
Go to this page if you have questions:
http://www.pemf-expert.com/contact_us.html
Or Email:  pemfexpert@gmail.com