Vancouver PEMF Allie Ochs President Swiss Bionic Canada
Vancouver PEMF – Allie Ochs, President of Swiss Bionic Solution Canada, is an International Speaker and PEMF Expert.
Look at these Vibrantly Healthy PEMF Ladies!
* Allie Ochs, President, Swiss Bionic Canada
* Kathie Scott, Swiss Bionic Lifestyle Consultant
* Veronika (with Wolfgang, Founder and CEO of Swiss Bionic)
* Goldie Denise, Swiss Bionic Lifestyle Consultant.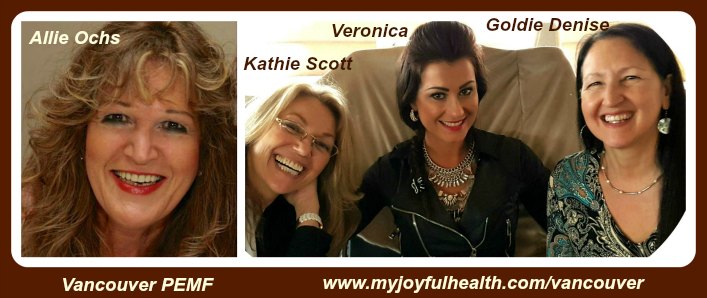 Allie educates about the health effects of Wireless Radiation, the new syndrome "Nature Deficiency Syndrome"
and PEMF (Pulsed ElectroMagnetic Fields) that restore human health on the cell level.
PEMF SWISS BIONIC WORKSHOP & PRESENTATION 
PEMF Every Day – We feel Tired and Exhausted; We Crave Relaxation and Balance in our lives.
Daily use of the Omnium1 PEMF system activates the Body's Self-Healing Ability and counteracts ElectroSmog
---
Here are the details for  meetings with Wolfgang Jaksch, CEO, Swiss Bionic Solutions, and  Allie Ochs, President, Swiss Bionic Canada.
Vancouver PEMF Workshop
– Friday, February 2, 2018 and Saturday, February 3, 2018
Swiss Bionic PEMF Public Presentation
FRIDAY, FEBRUARY 2, 2018
7:00 – 9:00 pm
Swiss Bionic PEMF Consultant Training
(NOTE:  Interested non-mat owners can also attend, but for anyone who is very new, the Friday evening event would be best.)
SATURDAY, FEBRUARY 3, 2018
10:00 am to 3:00 pm for a Consultant Training with both Wolfgang Jaksch and Allie Ochs
LOCATION: Unity Church, Oak and 41st, Vancouver, BC Canada
---
---
Allie Ochs – PEMF Expert
Allie is President, Swiss Bionic Canada
*  Pioneered the use of PEMF Technology in North America.
*  Helped thousands of people take charge of their health.
*  Allie's Motto is:  "Educate before you medicate and take control of your health on the cell level with cutting-edge PEMF technology, the new frontier in medicine!"
Allie's Story:
*  Suffered from years of severe chronic health issues.  Under immense stress and deeply depressed.
*  In 2006, Allie tried PEMF and saw results almost immediately.
*  Today, has over 10 years of knowledge and experience in restoring human health on the cell level.
Allie has also lectured alongside and worked with industry leaders among who are doctors Magda Havas, William Pawluk, Robyn Benson, Paul Heroux, Brian Clement, Gary Gordon and Nagaram Reddy; Sifu Jocelyn Toy, CEO of Swiss Bionic Solutions Wolfgang Jaksch, and others. As Dr. Benson, a doctor of Oriental medicine at the Santa Fe Soul Health and Healing Centre, simply put it, "Allie is a marvel to watch in action. She brings a world-changing message to life with her passion, profound insights and delightful humor."
---
Vancouver – PEMF Kathie Scott – Sciatica and the PEMF Mat
Kathie Scott  This is my "magic mat" story…
I used to have SCIATICA attacks that would leave me laying helpless in bed for days, sometimes for over a week, and in excruciating PAIN!

I could end up spending hundreds of dollars in just one week on Chiropractors to simply get back on my feet!

During one of these bouts, I put my situation out to our community and everyone offered assistance – and if I could get there that day, I went!

I was hung upside down and all kinds of things were done to me to relieve the sciatica.

Well into this bout, a dear friend said "Hey, come lay on our mat." I went.  Hobbled in.  Walked out! Bought it!

I haven't had sciatica since! Combination of Quantum Touch and the Swiss Bionic PEMF mat, and its OVER.
Who Is In Charge Of Your 75 Trillion Cells?
We are being "Wi-Fried"!
Relax and Reverse ElectroSmog with the Ommmmmmmmni Mat.
https://myjoyfulhealth.com/pemf-electrosmog/
Swiss Bionic Lifestyle Consultant
PEMF Omnium1 Full Body Mat
BUY YOUR MAT HERE: http://joyfulhealthstore.omnium1.com
LEARN MORE AND SUBSCRIBE HERE: