Wireless and PEMF – Pulsed ElectroMagnetic Field Therapy
You use Wireless, right? – also known as WiFi:
1. WiFi is designed to penetrate wood, glass, concrete and much more.
2. WiFi also penetrates our body and it affects our cells negatively.
3. Our brains and bodies react to these foreign signals in harmful ways.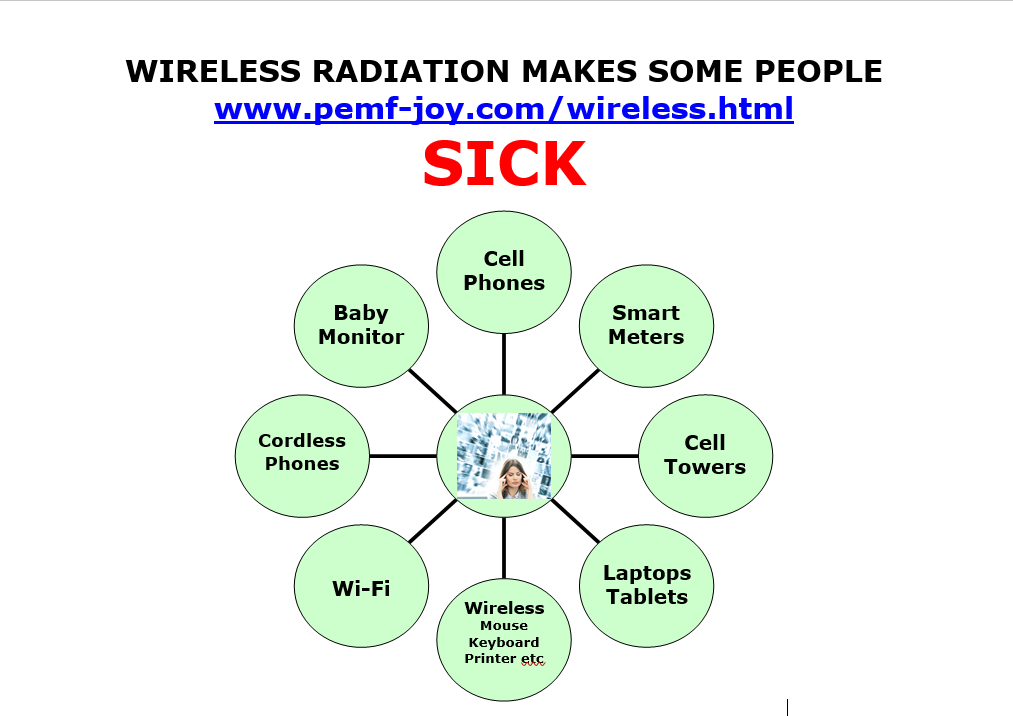 Is Wireless Technology Making You Sick?
Click on this link to see a PDF downloadable File:
http://www.pemf-joy.com/f/Wireless_PEMF_Diagram-Wireless_Radiation_Sources.pdf 
Summary of Some Technology that may be making you sick:
Baby Monitors
Cell Phones
Cell Towers
Cordless Phones (at home)
Laptops
Microwave Ovens
Smart Meters
Tablets
Wi-Fi
Wireless Keyboard
Wireless Mouse
Wireless Printer
HEALTH SYMPTOMS PEOPLE REPORT ARE:
| | |
| --- | --- |
| ADD, ADHD, Hyperactivity | Heart Arrhythmia, Palpitation |
| Agitation and Anxiety | Infertility |
| Blood Pressure Changes | Irritable Bowel Symptoms |
| Blood Sugar Fluctuations | Memory Loss |
| Cancer (Brain and others) | Multiple Chemical Sensitivity |
| Chronic Fatigue Syndrome | Nosebleeds |
| Concentration Difficulties | Shortness of Breath, Asthma |
| Depression and Mood Changes | Skin Rashes and Allergies |
| Dizziness, Vertigo | Sleep Disturbances and Insomnia |
| Fatigue | Tingling and Itching Sensations |
| Fibromyalgia, Joint/Muscle Pain | Tinnitus |
| Headaches, Migraines | Trembling and Twitching |
See also:
https://myjoyfulhealth.com/pemf-no-wifi-in-schools/
LEARN MORE AND SUBSCRIBE BELOW.
Is Your Smartphone Making You Sick?
In 2016, approximately 95% of all United States adults owned a cell phone. A full 76% of US adults owned a smart phone. Approximately 80% of all adults in the United States own at least one desktop or laptop computer, and 50% own a Tablet PC.
You can travel to any westernized nation or first world country and you see the same high percentage ownership of Internet-capable computers and consumer electronic devices.
Now imagine how each one of those smart phones receives and sends signals. In order for your smartphone to work, you must be near a cell tower that is licensed for your network. The United States is a big place. In order to serve the more than 230 million US residents that own a smart phone (as of 2016, that number has certainly grown by now), towers have to be built everywhere. Those towers send and receive radio frequencies and electromagnetic signals each and every day, every minute, every hour, relentlessly bathing you and your fellow man in an invisible electronic cloud.
Plenty of studies have shown that with the increase of smart phones and other mobile consumer electronic devices, bothersome health conditions have also increased. You can lay the growth rate charts of cancer, neurological disorders and heart disease on top of the growth charts of electromagnetic technology and devices and they are virtually identical. This is not a coincidence. Your smart phone very well could be making you sick, but it is far from the only bothersome electricity-powered techno-product that has been linked to dangerous and deadly chronic health conditions.
Fortunately, the villainous electromagnetic fields which cause a negative impact on the human body and mind are susceptible to their special brand of kryptonite. There are electromagnetic field ranges which are friendly to the human body, and they more than offset the health problems caused by "bad" electromagnetic fields. They are called PEMFs.
LEARN MORE AND SUBSCRIBE TO OUR NEWSLETTER BELOW.